I'm not going to say, "Good riddance!" to 2022 despite its many, many issues.
It was certainly an interesting year though, wasn't it? To quote my December iREIT on Alpha promotion:
"Even following 2020 and 2021, it still managed to stand out. And not just because of the appalling levels of inflation we've been dealing with.

"Iranians surprised the world with weeks and weeks of protests over the death of a young woman. Now China is being rocked with repeated protests too after a lockdown-enhanced tragedy took place.

"Queen Elizabeth died in the U.K., and her son Charles took the throne in her place. The country also saw its shortest prime minister stint ever this year, with Liz Truss leaving office after just 44 days.

"Over in the U.S., Roe v. Wade was overturned. The midterm elections surprised everyone. And Sam Bankman-Fried went splat.

"And that's to say nothing about how the global markets saw an absolutely miserable start. They've been tossed and turned by various news and emotions ever since."
There were good things. There were bad things. There were things that began bad that might very well turn out for everyone's good in the end…
But there's no denying that 2022 held its own for providing ample room to talk, one way or the other.
Boring it was not.
Real Estate Did Not Have a Banner Year
Real estate prices, for their part, provided a jar of pickles for investors everywhere. I'll quote myself again on that, this time from my "REIT Roadmap 2023," published exclusively on iREIT on Alpha the other week:
"Real estate – including real estate investment trusts (REITs) – has had a dreadful year in 2022. I've already acknowledged this in previous articles, but let's face the facts again.

"It's been bad.

"Moreover, it's been bad no matter which way you look at it…"
Yet, again, I'm not bitter about 2022. And I'm not worried about 2023, even with the looming recession we're supposed to be in for.
Instead, I'm writing out my list of resolutions as I do every year with the same good cheer I've had in the past.
Let me tell you why…
A Positive – Realistic – Approach Will Serve You Well
For starters, a positive attitude is a plus.
Don't worry. This isn't going to be some self-help article. I'm well aware that Seeking Alpha is an investment community.
It's just that your finances can be easily affected by your attitude.
If you think the world is out to get you, you're going to be too busy watching out for danger to see the positive opportunities around you.
I'm not asking anyone to be unrealistic, mind you. It's just that expecting nothing but bad things tend to be a self-fulfilling prophecy I don't want to mess with.
Psychology Today might have pegged the need for balance best when it wrote that, "The problem of expectation occurs when we expect something to happen without good reasons for that expectation." This applies on both the positive and negative sides.
For the former:
"If I believe that my expectations alone will bring me what I want, I am using magical thinking and setting myself up for disappointment. This is really obvious when we are talking about coffee. I can't make a cup of coffee just by thinking it into existence; I have to take the necessary steps to make it happen. I have to grind the beans, put the coffee and water in my coffee maker, and push the button. Just expecting my cup of coffee to appear is delusional."
At the same time, sitting around saying, "I could try to make a pot of coffee but it isn't going to be any good" is pretty silly too.
Yes, sometimes the caffeine isn't going to kick in the way we need it to. Maybe we ran out of cream. Or we decided to try out a new kind of coffee, only to find out it isn't our cup of tea.
But if we put the effort into making a cup of coffee in the morning… it's going to be a positive more often than not.
Ask any coffee drinker for proof of that.
In the same way, investors won't experience a banner year every single year. There will be individual stock disappointments, and the larger markets will have their downsides.
But smart investors who can keep a hold on their emotions – both fear and greed – can come out very far ahead over time anyway.
As I'll detail down below, my overall track record is proof of that. Let me show you what I mean…
#1 Reduce Leverage
As many of my readers know, I landed on the Seeking Alpha website in 2010 as a result of a big pivot – from being a real estate developer to being a real estate analyst.
Back then, I built my net worth from zero to over $25 million over 20 years by using leverage and OPM (other people's money). Development was like shooting fish in a barrel at the time, and banks were throwing money at me left and right.
In those good ole days, I could buy land with no money down and build new shopping centers with very little pre-leasing.
We know how that story ended, of course. There was a reason why the subprime housing meltdown and subsequent Great Recession happened.
And I suppose I was part of the problem.
Those lessons were pretty painful for me. But 12 years later, I've come back stronger than ever.
That's thanks in large part to Seeking Alpha. It allowed me to communicate with the entire world and teach the concept of frugal investing.
Instead of gambling on speculative stocks, I now insist on buying only the highest quality assets with the strongest balance sheets. Several of my top holdings include:
Realty Income Corporation (O) – with an A-rated balance sheet and $2.5 billion in liquidity
Prologis Inc. (PLD) – another A-rated real estate investment trust (REIT) with $5.3 billion in liquidity
Simon Property Group, Inc. (SPG) – yet another A-rated REIT with $8.6 billion in liquidity.
I have no interest in purchasing shares in highly levered REITs like Annaly Capital Management, Inc. (NLY) and PennyMac Mortgage Investment Trust (PMT). Unless you're an experienced trader, investing in those could mean you could end up where I was in 2008.
With some very expensive lessons learned.
Again, I'm very happy with where I am today. It just would have been nicer if I could have reached it without first crashing and burning.
Regardless, the REITs I've invested in since 2010 have returned an average of 15% annually. I credit that success to focusing on fundamentals – which includes analyzing the balance sheet strength of the companies I've invested in.
I've also worked hard to pay off all my credit cards. And with good reason.
Do you know that the average credit card rate is 19.04%? That's the highest since 1992!
Moreover, the average credit card balance per household is $6,569.
Before you go investing in any stock, I suggest paying off your credit cards ASAP. Your credit score will go up once you do, and you'll be able to sleep much better at night!
#2 Avoid Sucker Yields
Another thing I learned from my past failures in life is that everything that glitters isn't gold.
We all get the temptation from time to time to chase yield. For some, it's even an addiction. Which makes some sense.
Let's face it, we all want to get rich quick.
I remember buying a free-standing building years ago leased to a payday lender called Check Into Cash. I bought the building for peanuts, and the cash-on-cash yield was something like 15%.
I knew in the back of my mind that the rental income wasn't sustainable. But I figured that, as long as I could get my money back in six years, I could come out ahead.
Around 12 months into the initial lease term though, the company terminated the lease. And I was stuck holding the bag.
I don't own the property anymore, but I googled it to show you what the building looks like today: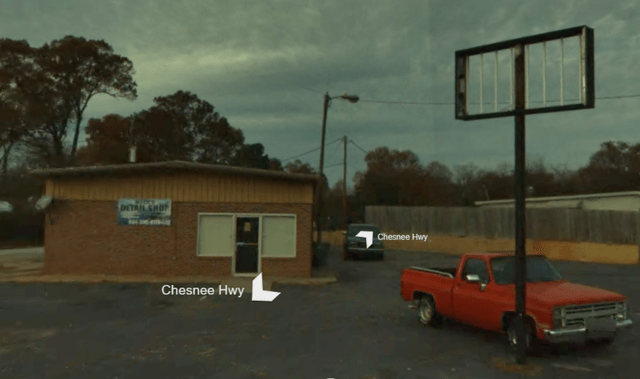 That's a good real-like example of a sucker yield, which Investopedia describes as:

Incidentally, I was the one who wrote that definition for the site. You're welcome.
That understanding is precisely why I've avoided REITs like Global Net Lease, Inc. (GNL) and Annaly. More recently, we put the brakes on Easterly Government Properties, Inc. (DEA) over similar concerns.
And we consider EPR Properties (EPR) to be a sucker yield as well, given its vulnerable business model and reliance on theater operators.
Going back to before the pandemic, I was one of the few voicing concerns over Washington Prime, CBL & Associates Properties, Inc. (CBL), and Pennsylvania REIT (OTC:PRET). It might take a catastrophe to figure things out, but once I do…
I stick with it.
Lessons Learned: Stock with safe dividends!
#3 Maintain Sound Diversification
As mentioned earlier, I've built my net worth back up over the last 12 years. And this time around, I'm standing on a solid foundation.
That's partly due to my use of responsible leverage and also because I've made wiser investment decisions. But importantly, as Benjamin Graham reminds us:
"Diversification is an established tenet of conservative investment."
Asset allocation is critical to becoming an intelligent investor. And as much as I love real estate – and specifically REITs – I always strive to maintain responsible diversification practices.
My goal is not to get rich quick. It's to become rich by building a well-structured investment portfolio that includes REITs, business development companies ("BDCs"), master limited partnerships ("MLPs"), blue-chip C-corps, utilities, and preferred shares.
I also recently began investing in private real estate and am in the process of acquiring a portfolio of rentals in Q1-23. Then there are my further diversifications into art, automobiles, jewelry, and my personal residence.
(I'll touch on that last one in greater detail in my next resolution.)
My goal is to retire in around 10 more years with an investment portfolio that generates $1 million of annual income before taxes.
Currently, I have around 40% of my liquid securities invested in REITs. And my plan is to increase that to around 50% over the next 12 months.
There are quite a few REITs that are trading with a wide margin of safety and with strong earnings forecasted. So you know I have my eyes on them.
You also know I have great access to management teams. I've been able to tap into my Rolodex to gain firsthand knowledge related to operations, capital management, investments, share buybacks, and, of course, dividend safety.
This includes traveling to meet C-suite executives at their offices. In fact, I met with Highwood Properties, Inc.'s (HIW) CEO just a few days ago. And I personally visit REIT-owned properties for the same "boots on the ground" purposes.
That kind of contact can be invaluable.
My point in saying all this is that I'll never put all my eggs in one basket again. The REIT sector provides a lot of room to diversify, and I take full advantage of that.
But I don't limit my pursuits or the way I evaluate those pursuits to any one field in general.
#4 Make My Wife Happy
I recently posted a picture of my wife and I on Twitter: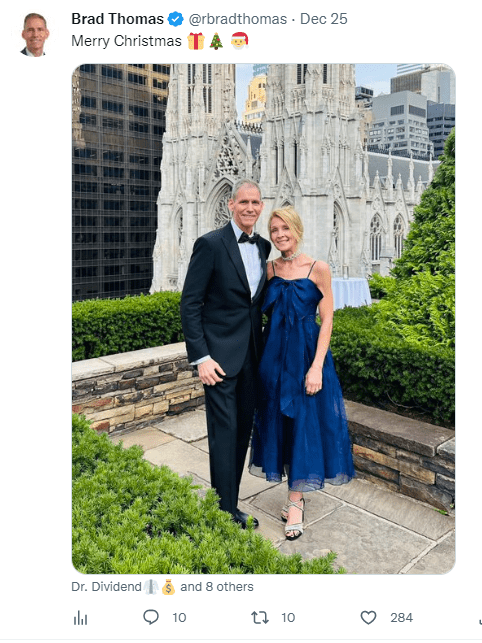 It was in New Yok City, where we celebrated our oldest daughter's wedding after 30 years of our own marriage. (Yes, my wife is younger than me.)
Clearly, we did some splurging for the affair. But that doesn't mean we throw around money as a general rule.
We used to, but you already know where that led me.
According to The Millionaire Next Door – an excellent read, for the record – millionaires make a somewhat higher income than average. But the main reason they're wealthy is because of their lifestyle of self-discipline.
They save 15% or more of their income so they can invest it.
This is why I say that the real secret to a pleasant existence is what I call "life balance." That simply means I try to save for retirement and make the wife happy along the way.
And, yes, that does involve the occasional splurge.
One of the best investments I ever made was purchasing a ring for my wife. Back in 2003, I was selling a shopping center to a private REIT and got a big payday from the deal.
So I bought her a fancy diamond ring that cost around six digits.
At the time, my CPA thought I was nuts. But I just winked at her and said, "It's a long-term investment."
In 2008 – when I lost most of my real estate holdings – we came very close to selling it. But we managed to hang onto it until we came out the other side.
Just before Covid, the ring was appraised for 2.5x the original price that I paid. That translates into a 9% annualized return (excluding insurance).
That's amazing from a financial perspective!
However, the ring has much more value beyond the material application. It also signals that we were able to claw back from the depths of one of the most difficult financial periods of our lives.
Our comeback story has generational implications…
And I built it all back using intellectual property and not real property!
#5 Stay Humble
The last REIT resolution is the hardest. To be honest, I must work on this every single day.
We all have egos…
Some are bigger than others…
And when we get knocked down, we become more humble. Hopefully.
When I was 40 years old, I was literally flying high. I took summer vacations traveling on a King Air and spent money like it was growing on trees.
I never imagined I would see my net worth vanish and my retirement go down the toilet.
But that's precisely what happened.
Two years after I had purchased my wife the ring I just mentioned, I was sitting in the parking lot of the same grocery store I'd developed and sold for around $12 million. Yet I had less than $100 in my pocket… and five kids at home to provide for, one of them still in diapers.
The stress was high, but I knew I could come back stronger than ever – if I just focused and employed some serious amounts of discipline.
Patrick Süskind wrote in Perfume: The Story of a Murderer,"… talent means nothing, while experience, acquired in humility and with hard work, means everything."
How right he was.
It took me an entire decade to get back to where I was before. And I can assure you that I'm not the same Brad Thomas I was in 2003.
In fact, I'll credit everyone who's commented on my articles over the years for providing wisdom or otherwise offering me a chance to learn and grow. You've provided me with precisely what this website is known for…
Seeking Alpha.
H. Jackson Brown Jr. once wrote, "Every person that you meet knows something you don't. Learn from them."
As I pointed out in a recent article, I'll show you my losers as easily as I'll show you my winners. I don't take pride in these bad calls, but I've learned the value of eating crow when it's called for.
By practicing all five of these resolutions and most importantly, having fun along the way, I'm confident that 2023 will be a terrific year for REIT investors. Always remember, to quote Benjamin Graham one more time…
"Adversity is bitter, but its uses may be sweet. Our loss was great, but in the end we could count great compensations."
Editor's Note: This article discusses one or more securities that do not trade on a major U.S. exchange. Please be aware of the risks associated with these stocks.