From building heroic works of concrete brutalism in the 1960s, to pieces of playful postmodernism in the 1980s, and curious organic-tech structures in the 2000s, few architects have been as versatile and enduring as the Japanese designer Arata Isozaki, who has died aged 91.
Impossible to categorise with any single stylistic label, Isozaki was a constant presence in global architectural culture for the second half of the 20th century, after he first came to prominence in the 60s with visionary, almost sci-fi schemes for how Japanese cities might be rebuilt after the second world war.
His 1962 project, City in the Air, proposed great branching megastructures sprouting above the congested streets of Tokyo, imagining tree-like clusters of apartments, offices and transport nodes linked in a futuristic aerial network. It was at once ancient and modern: the interlocking forms recalled the wooden sashihijiki bracket structures of traditional Buddhist temples, while the urban forest was to be connected by a computer network, prefiguring the internet by two decades.
It came to nothing at the time; but, half a century later, Isozaki would realise similarly hi-tech fantasies on an equally epic scale, fuelled by the accelerating economies of China and the Middle East, building otherworldly monuments from Shenzhen to Doha.
Arata Isozaki was born in Ōita, on the southern Japanese island of Kyushu, as the eldest of four children of Soji and Tetsu Isozaki. His father was a businessman who ran a transport company and was also a leading haiku poet. One of Isozaki's earliest memories was the vivid experience of destruction: he was 14 years old when Hiroshima and Nagasaki were flattened by US bombs in 1945. "I grew up on ground zero," he recalled. "It was in complete ruins, and there was no architecture, no buildings and not even a city. Only barracks and shelters surrounded me. So, my first experience of architecture was the void of architecture, and I began to consider how people might rebuild their homes and cities."
Isozaki studied architecture at the University of Tokyo, graduating in 1954, and received a doctorate there in 1961. While studying, he began his career with an apprenticeship under the guidance of Kenzo Tange, the godfather of the Japanese metabolism movement, with whom he dreamed up speculative plans for improbable megastructures spanning Tokyo Bay. He founded his own practice, Arata Isozaki & Associates, in 1963, and began with a series of projects in his home town, including a striking medical centre and library building.
They were both designed in the muscular brutalist style, with intersecting oblong forms cast in raw, board-marked concrete, their structures conceived as open-ended armatures for continual expansion (although, like most such "plug-in" plans, they were never expanded as intended)
Even in these early years, before the dawn of postmodernism, Isozaki's work contained an element of humour. Commenting on the design of the Ōita Medical Hall, built in 1960 as a squashed cylinder raised on four legs, he later said: "I suddenly saw the building's resemblance to a piggy bank and burst out laughing. Instead of discarding the design, I decided to go with it, precisely because of its humorous character." Wit and whimsy became a hallmark: he went on to design a golf clubhouse in Ōita in 1974 in the form of a huge question mark, because he could not understand his fellow countrymen's obsession with golf.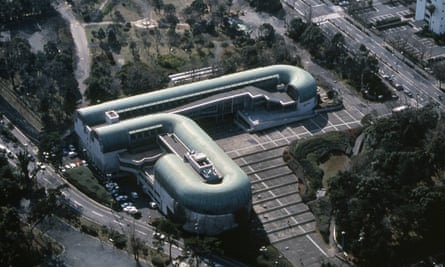 Isozaki travelled extensively in his youth – "around the globe at least 10 times before I turned 30," he once boasted – paving the way for what would become a truly international practice.
In the 1980s, he became one of the first Japanese architects to build abroad, when he won a high-profile competition for the Museum of Contemporary Art (MOCA) in Los Angeles. Capturing the postmodern spirit of the age, he assembled a gnomic tableau of platonic forms, like children's building blocks, with a grid of pyramid roof lights atop a sunken gallery, and a barrel-vaulted library raised on legs above the entrance, the whole complex clad with red Indian sandstone. Mostly sunken below ground, with a low-key presence on downtown LA's Grand Avenue, the building stands as a kind of anti-monument, a restrained foil to the thrashing titanium sails of Frank Gehry's Disney Concert Hall and Diller Scofidio + Renfro's serrated white flanks of the Broad museum that have come along since.
Combining the golden ratio proportions with elements of yin-yang theory, the MOCA building was a novel fusion of eastern and western traditions that would become a recurring theme throughout Isozaki's work. It was an approach that set him apart from his contemporaries – and often confused critics. "Looking at an Isozaki building is a bit like watching an American sitcom dubbed in German," wrote William Wilson in the LA Times in 1991. "Suddenly all those American actors saying danke and gesundheit look very Teutonic."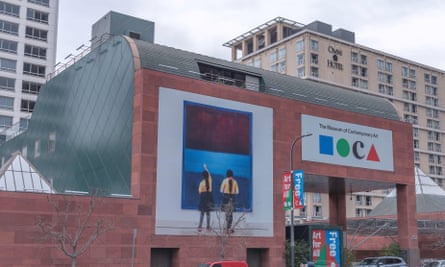 Isozaki sampled from both the given context and his own Japanese heritage with promiscuous relish, mixing unusual cocktails of different influences. His Palau Sant Jordi in Barcelona, an indoor arena built for the 1992 Olympic Games, combined a domed roof inspired by Catalan vaulting techniques with the sloped forms of Buddhist temples, clad with a local material palette of brick, tile, zinc and travertine.
For the office headquarters of Disney in Orlando, built in 1991, he went full Florida. The building stands as an unbridled riot of colour and pattern, aptly embodying the turbo-charged joy of the cartoon dream factory. A tapering central cylinder – half salmon pink, half minty green – stands at a jaunty angle, crowned with a bright yellow halo, rising from a dazzling cobalt blue box. The composition is adorned with a number of other cubes, variously dressed in glossy red or brown and beige chequerboard patterns, while a pair of Mickey Mouse ears forms a punched entrance to the cylindrical rotunda, which also serves as a gigantic sundial. It is PoMo in the extreme. But, like many proponents of the style, Isozaki did not like the label. "I'm postmodern," he once told a reporter, in a characteristically philosophical turn of phrase, "not postmodernist."
He cultivated a position as something of an iconoclastic sage, writing dense theoretical texts about his work and dressing in loose, flowing outfits, designed by his friend Issey Miyake, with his white hair tied in a short ponytail. He mixed in avant-garde circles: his third wife, the sculptor Aiko Miyawaki, whom he married in 1972, brought an international coterie of artist friends into their life from the years she had spent in Paris, including Hans Richter, Man Ray and John Cage. She died in 2014.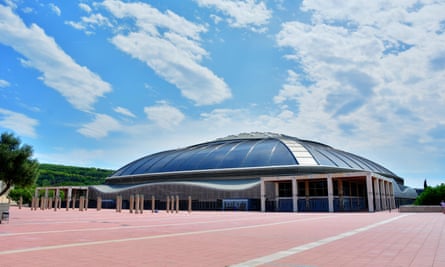 Isozaki's final two decades saw an unexpected leap in the scale of work he was offered, bringing opportunities to build in the heady contexts of Qatar, China and Central Asia. His museum for the China Central Academy of Fine Arts in Beijing, completed in 2008, took an organic turn, as a bulging whale-like volume clad in textured slate shingles. In Doha, Isozaki saw a chance to finally realise his 1960s City in the Air scheme for the Qatar National Library , which would have seen a great stack of reading rooms suspended in the sky from three 20-metre tall cylindrical columns. The plan was abandoned, but he did realise a boxy convention centre instead, with a huge roof supported by a peculiar structure of blobby, tubular branches, in an apparent reference to a holy Islamic tree.
At the time of his death, Isozaki's practice was involved in a number of masterplans in China, so it is fitting that the Power Station of Art in Shanghai will host a major retrospective of his work next year. As its co-curator, Aric Chen, said of Isozaki: "Few architects have been so significant to so many architectural developments over so many decades – a position of centrality that he maintained, in large measure, through his insistence on staying on the periphery."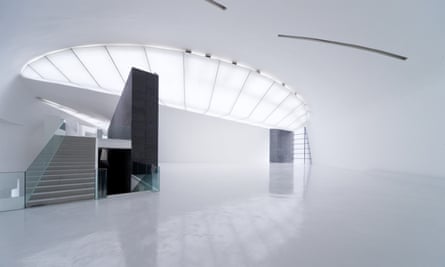 When Isozaki finally won architecture's highest honour, the Pritzker prize, in 2019, decades after several of his contemporaries had received it, he commented with typical wry humour: "It's like a crown on the tombstone."
Isozaki is survived by his partner, Misa Shin, a gallery owner, and a son, Hiroshi, and a grandson, Gen. Another son, Kan, died in 2017.