JP Staff (The Jakarta Post)

Jakarta   ●  
Sun, January 15, 2023

2023-01-15
17:12
0
5aba7b8a7e7e6df2023f04d0fa28d555
1
Art & Culture
art,artist,exhibition,Museum-MACAN,fine-art,fine-arts
Free

Red and black threads are strung across the walls and floors of the Museum of Modern and Contemporary Art in Nusantara or Museum MACAN. Clothes and suitcases are scattered around, floating in silence. A boat stands silent atop a sea of concrete, spewing red lines.
"I cried," said Keyko S., a visitor from Ciputat. "My soul was, indeed, trembling."
Museum MACAN hosts the curated work of Chiharu Shiota for the public to enjoy from Nov. 26, 2022 to April 30, 2023. The exhibition, titled Chiharu Shiota: The Soul Trembles, is the artist's first solo exhibition in Indonesia. Prior to visiting Jakarta, the stunning arts have been traveling around the world, from Busan to Taipei, from Shanghai to Brisbane.
Accumulation: Searching for the Destination (2014-2022). There is no favorite. According to Shiota, all arts are equally important. (Archive/Museum MACAN) (Personal archive/Courtesy of Museum MACAN)
It features more than a hundred works from almost thirty years of the artist's practice since the 1990s. Spanning across time, mediums and disciplines, the exhibition incorporates large-scale installations, sculpture, video performance, photography and set design.
"I think art is an important part of our lives and I would be honored if you could see my artwork of the past 30 years," Shiota said during the opening ceremony. "I want to connect with the people in Jakarta and for them to experience something different from their daily lives."
Three decades' worth of work
Shiota is known for her exploration of social and cultural identity. She molds whatever medium she stumbles upon to give form to human consciousness and non-physical experiences.
"I wanted to be a painter and I studied painting for some time," said Shiota. 
However, Shiota said she "felt limited within the two-dimensional canvas." It was then she started to explore three-dimensional art. Even so, along the way, she said the sensation was still similar. "For me, I am still drawing but now in the air."
A dream prompted her to explore a different type of art.
"While I was studying painting, I had a dream that I was inside a painting. It was difficult to breathe and I thought, how can I move my body so the painting becomes better?" she wondered.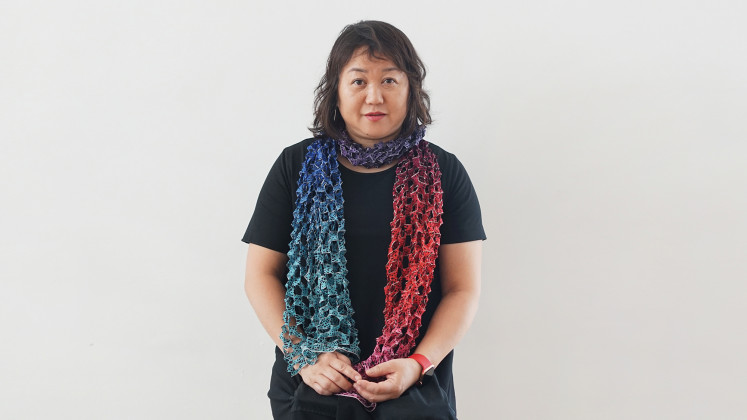 The artist: Chiharu Shiota brought her most notable works within the span of three decades to Jakarta, curated by Mami Kataoka. (Archive/Museum MACAN) (Personal archive/Courtesy of Museum MACAN)
"The next day, I did this 'becoming a painting' performance in the classroom. But every time I do performance art, I cannot see the artwork; I am inside the artwork. Normally, when I make art, I can see the installation from the outside, but when I do performances, I cannot see myself."
For Shiota, each art is different. Each has its own way to express itself and that's what compels her to pursue different forms of art each time.
"Contemporary art is free to think, there is no answer. Everyone is different, everyone feels different and some have the same feelings," she said. "Human feelings are complex, but some artwork can explain them."
Aaron Seeto, Director of Museum MACAN, said the exhibition must be experienced in person as it is difficult to describe the total experience of encountering Shiota's work.
"Her installations are breathtaking, enveloping and all-encompassing. They open up a space for viewers to reflect on their own lives and to contemplate very intimate ideas about the soul, emotions and existence," Seeto said. 
"Chiharu Shiota's work is distinctive as she gives shape to the auras and energies of things that possess no physical presence, such as things that only exist in memories and dreams."
For Keyko, the majorly two-toned exhibition gives different vibes depending on the colors.
"The red strings, for me, represent the inner turmoils of the heart, it's more about feelings. The black strings are thoughts, swirling black mass of messed up thoughts," she said.
"I think everyone who, at some point, experienced knots and jumbled swirls in their hearts or their minds that they can express easily will relate a lot with this exhibition."
A dark design
Mami Kataoka, Director of Mori Art Museum, Tokyo, was the initiator and curator of this exhibition.
"Having experienced an unprecedented pandemic, people's souls in different countries of the region have indeed been touched by this exhibition and I am sure this exhibition will have the same effect on the audience at Museum MACAN," said Kataoka.
According to Shiota, Kataoka visited her in Berlin to start planning the exhibition. As if it was a grand entrance into a new beginning, just the next day after Kataoka's visit, Shiota's doctor shared a piece of life-changing news.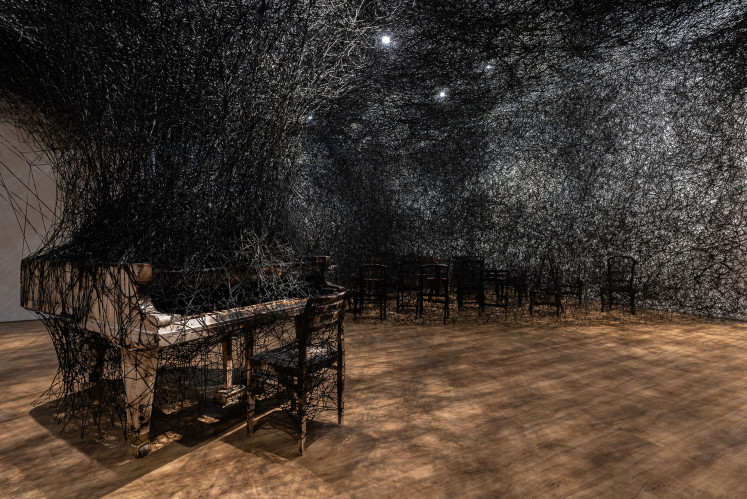 In Silence (2002-2022): Tied with no form nor disciplines, Shiota experiments with her art. (Archive/Museum MACAN) (Personal archive/Courtesy of Museum MACAN)
"My doctor told me I had a tumor, it was cancer, then I had to have surgery and chemotherapy, everything during the preparation of the exhibition," said Shiota. "That is why I had to think about death and the soul, when my body dies where does my consciousness go?
"When I did chemotherapy, I felt [I was separated from] my body. Normally I don't put anybody in my work, I normally work with the presence in the absence, but for the exhibition my body was there."
This is the reason why Shiota says she never has a favorite because the entire work is important. In addition, every exhibition, although rooted in the same concept, is always different from one to another.
"So, normally the artist makes art in the studio and brings it to the museum, but I like to make the art in the museum. I don't like it when my art [is done] in the studio. It is too perfect, the tension is different in the museum," said Shiota, who said the process was intended to make the whole exhibition become more immersive.
"[When] I create an installation, I am using the whole room. Why am I using the whole room? Because I can catch the emotions immediately, [how] the visitor is going inside the artwork."