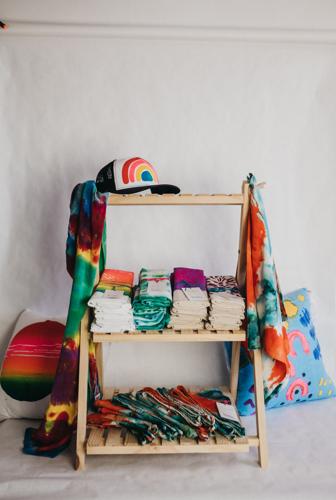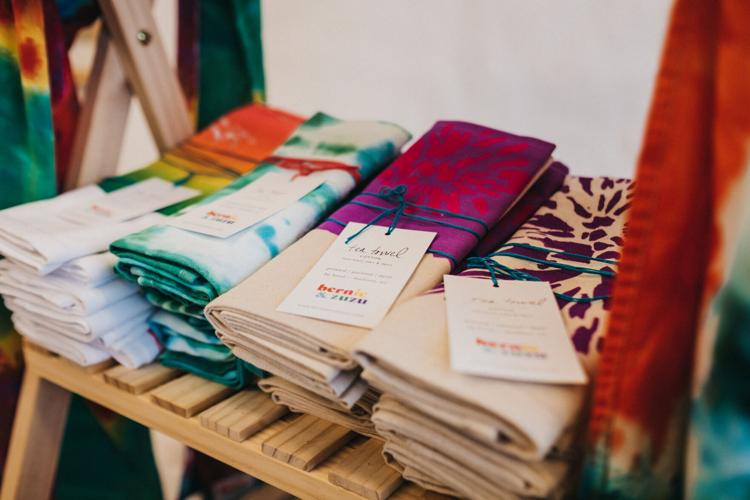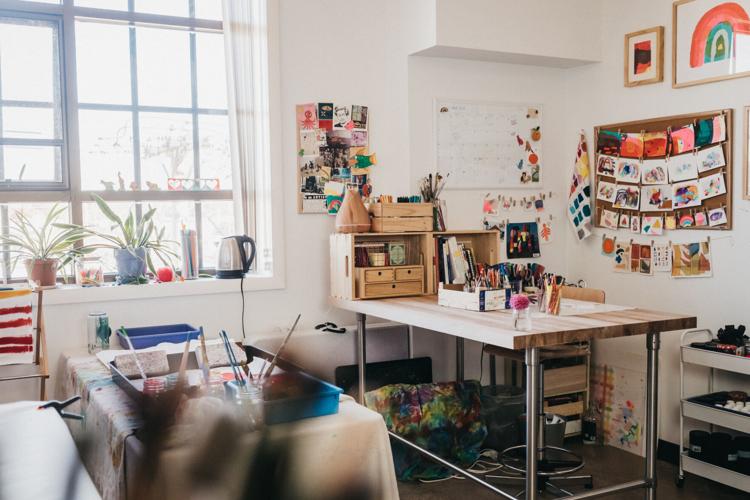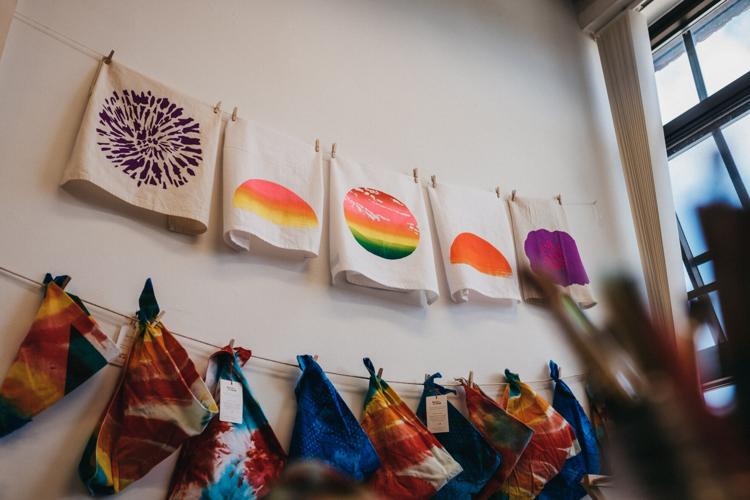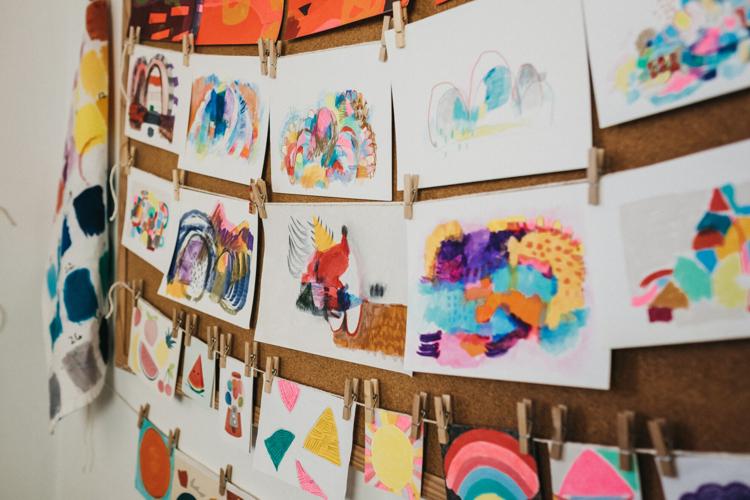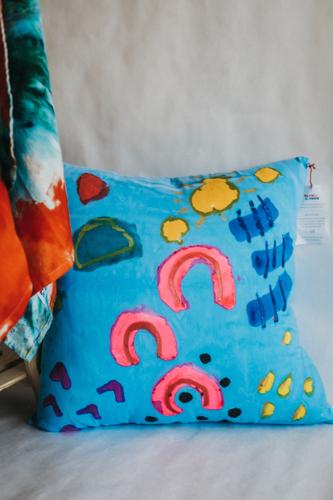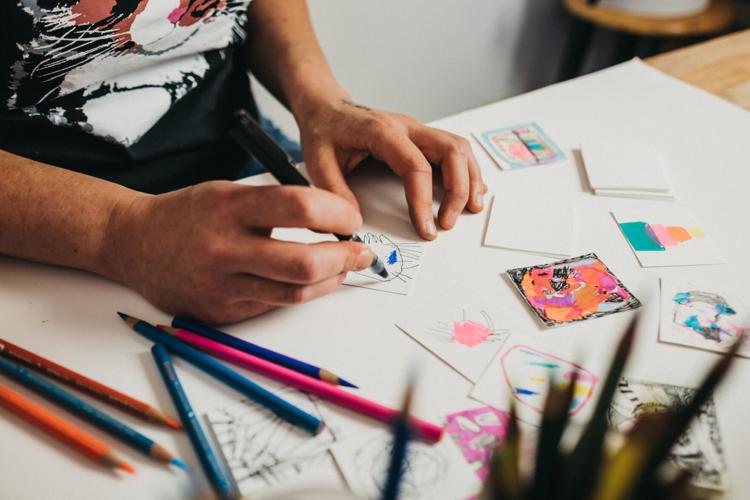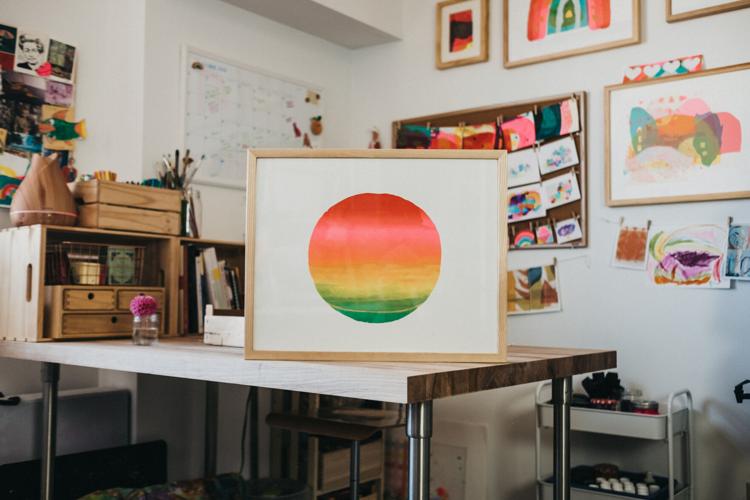 Joy. Delight. Sunshine. These words immediately spring to mind when you step into the studio of bernie & zuzu, where Bernie Witzack creates her artwork.
Bold-hued rainbows and other shapes adorn prints, cards, hats, tote bags, tea towels, pillow covers and more — all with a freedom and whimsy that make you think Witzack had a heck of a fun time making them.
But she's also a trained artist with three degrees — a bachelor's degree in studio art, an MFA in drawing and painting and an associate's in graphic design — and a thoughtful philosophy behind her work. She describes her art as "neo-abstract expressionist but using normal crafting materials."
Everything at bernie & zuzu is handmade — hand-dyed, hand-painted or screen-printed by hand — in small batches, which keeps her work unique, usable and affordable. It also helps bring art down to earth for all to enjoy.
"Abstract art can be inaccessible," she says. "I'm demystifying it through fun, colorful patterns and a playful design feel."
Witzack moved to Madison in 2015 and steadily worked to become a full-time artist in 2021. Along the way, she's inspired her supporters to live a little more vibrantly.
"That's what I want to bring into the world," she says, "little moments of joy through pattern and color."
---
From the Artist: Bernie Witzack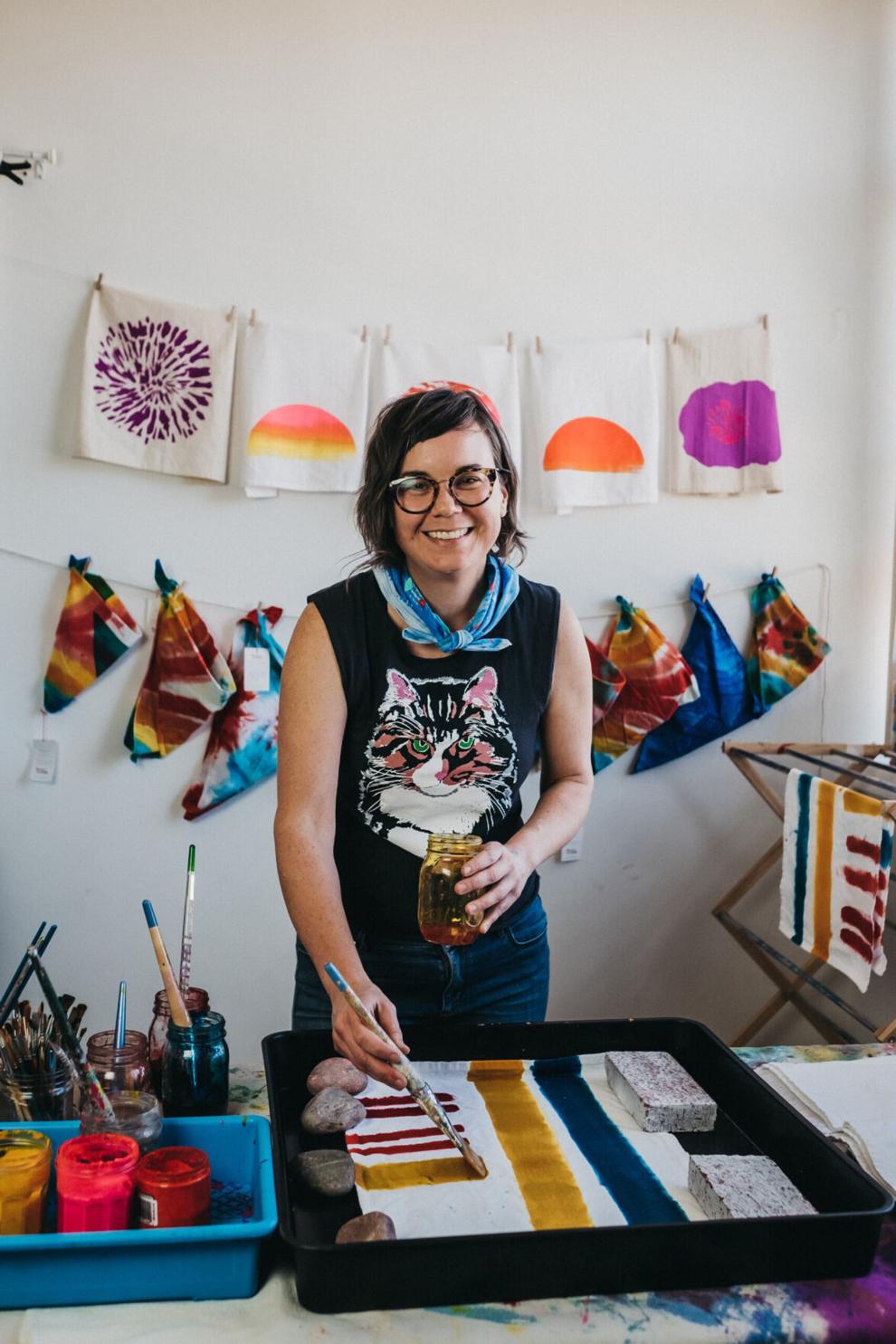 Family Matters
My dad is a painter, my grandfather also was a painter and my great-great-grandfather was a blacksmith in Germany. My mom is a quilter and embroiderer. My dad did a bunch of different types of paintings, but my favorites were the abstracts.
Cat Coworker
Zuzu is my business partner. I call her my cat boss. I'm pretty obsessed with her. I've had her since I was 25. She's moved to 12 different apartments and three states with me. She's really playful and interactive and naughty.
Lucky Start
In February 2020, I was asked to be in the first Femmestival at Garver Feed Mill. I was nervous but I tried it — and it was amazing! I almost sold out of everything and it gave me such confidence. Then I threw myself into the business.
Fair Game
I show at the Dane County Farmers' Market and at a lot of fairs. I do love interacting with people at fairs. At a gallery, you're not seeing their reactions, but [at events] I get to have these experiences where I'm connecting with people.
Find bernie & zuzu | bernieandzuzu.com | @bernieandzuzu | Available at local markets and fairs and carried at Little Luxuries, Hatch Art House and Communication Madison
Katie Vaughn is a contributing writer at Madison Magazine.